Energy bills are the second biggest operational expense for large businesses with various physical assets. As a result, rising energy costs could be detrimental to an organization's bottom line. For this reason, energy efficiency is increasingly becoming a part of the CFO's agenda.
The government introduced price caps and relief programs to control the unprecedented rise in energy prices. While this is momentary relief, rising energy prices are only half the problem.
The buck doesn't stop at bills; fines are deadlier
Homes and commercial buildings are responsible for over one-third of CO2 emissions from the U.S. energy system. Apart from imposing penalties & fines, the US government's regulatory push for energy efficiency and reduced emissions is balanced by a similar surge in tax credits, rebates, and discounted financing for real estate investors who improve their buildings' energy efficiency and clean energy installations
For example, in New York City, most buildings over 25,000 sq ft must reduce GHG emissions 40% by 2030 and 80% by 2050, with fines and enforcement starting in 2025. Los Angeles wants new buildings to have net zero emissions by 2030 and existing buildings net zero by 2050.
Besides reporting energy and emissions in ESG disclosures, real estate owners are also required to "benchmark" or report their energy and water use to the local authorities. Those who fall behind will be more likely to encounter fines.
These regulations have placed enormous pressure on sectors like retail, manufacturing, healthcare, aerospace, automotive, and many others. As a result, the built environment is turning to technology for solutions.
Challenges on the path to net zero
The most recent data on businesses' net zero actions says 'implementing change being costly' was the main barrier preventing businesses from acting (20%), while over 1 in 10 (13%) of those not taking action were 'unsure of how to measure their emissions.'
Implementing new tools and technology involves high capital investments and varies for each company depending on its maturity and requirements.
These factors discourage businesses from adopting better energy management programs, robbing them of more significant potential savings in the long term.
Rethinking the approach to energy management
Sure, retrofitting old buildings with LED bulbs, cool roofing, solar panels, and the like is good. But that's new capital investment.
What about the investments you've already made?
The first step to energy efficiency is understanding your consumption and identifying gaps and opportunities for higher conservation using utility and interval meters, which are very cost-effective.
The gaps you find at this stage can be addressed with simple workflows and process changes. For further optimization, you can look at a cloud-based software-led approach to help you save energy more efficiently.
There are four primary levels in the hierarchy of energy management, and each step lays the foundation for the next.
Device level: Understanding energy consumption with utility costs and saving analytics, and interval meter analytics for energy savings calculations.
Site level: Building Automation System (BAS) data, Retro-Commissioning (RCx), and energy retrofits to tune the system's setpoints, sequences, and schedules to save energy.
Building level: Switch from reactive to proactive maintenance with energy management analytics like Fault Detection & Diagnostics (FDD) and discover more energy-saving opportunities over time.
Enterprise level: Finally, adding an Advanced Supervisory Control (ASC) to close the loop and optimize portfolio operations using tools and data from steps 2 & 3.
Each level is a building block toward better ways to conserve energy. But to progress to the highest level, you need a portfolio-wide cloud supervisory platform to access real-time information from multiple building systems.
James Dice of Nexuslabs illustrates the reality of a bottom-up approach to energy management hierarchy.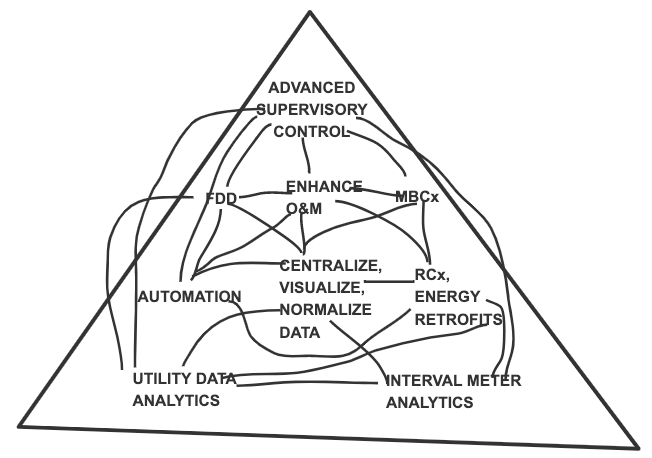 You may visualize a painful number of integrations and implementations and perhaps feel like this is more trouble than it's worth. Well, you're not wrong.
The problem with technology in this space is that vendors sell stand-alone solutions that create more silos at each level. Lack of interoperability, coupled with high implementation costs severely hinders energy conservation efforts.
Fortunately, a transformative alternative exists.
Do more with less: with a platform-based approach
A robust energy management platform gathers intelligence and insights to deliver data-driven energy conservation. It also opens up opportunities to leverage smarter and more cost-effective alternatives.
Here are some ways in which you can 'do more with less' with data backing your every initiative.
     1.  Choose digital retrofits over capital-intensive physical ones
Platforms leverage IoT Edge / ML algorithms for portfolio-wide predictive operations to deliver continuous sustainability at much lower costs with digital retrofits.
Digital retrofits fast-track the modernization process by enhancing rather than replacing existing infrastructure. This is a viable and inexpensive alternative to physical retrofits, which are expensive and time-consuming.
     2.  Find simple opportunities to close existing gaps in processes, systems, and people
Take, for instance, the BAS data-lock-in problem. Real-time energy management requires access to BAS data for control-based automation.
The options available to access this data come down to
A painful building-wide system integration
Stitching complex manual workflows together that end up adding to silos
Considering there are often multiple BAS vendors and contracts involved, this becomes an arduous and impractical option for scale. However, single-pane-of-glass platforms can help unlock the untapped potential of BAS systems.
With a cloud supervisory platform like Facilio to augment all site-level BAS systems, you can consolidate data from across your portfolio and optimize operations in various contexts.
     3.  Leverage artificial intelligence (AI) for predictive analytics
AI is leading the transformation towards decarbonized, digitalized, and decentralized energy management.
Modern unified data-led platforms like Facilio leverage AI to point out precisely where energy needs to be optimized better in real-time and empowers you with insights to take action.
The longer AI runs and learns from your operational patterns, the more energy conservation opportunities it identifies for you. Further, predictive analytics and maintenance invite cost savings of roughly 10%-12% over your existing preventive maintenance and up to 40% over reactive maintenance activities.
Put your business on the path to continued compliance, sustainability, and savings
Approaching energy management as a comprehensive strategy is key to making sustainability a habit. Added to that, the cost savings decarbonizing goals secure for CREs improve the bottom line, and save them from millions in fines.
The best way to understand the conservation measures will have the most impact, you have to let your data speak for itself. Software platforms do just this by gathering relevant data from people, processes, and systems to become a powerhouse of data analytics and insights for your entire portfolio.
A platform approach is to energy management what industry 4.0 is to manufacturing. It is the future, no doubt. Not only do platforms streamline and centralize data, but they also pave the way to the top of the energy management hierarchy for your business.
In addition, they enable contextual maintenance, in combination with real-time energy analysis, contributing to third-party certifications (like LEED & SmartScore for existing buildings), helping secure performance ratings consistently.
To summarize, decarbonizing goals are especially important during downturns such as the one we're in the middle of. Adopting a portfolio-wide cloud platform and opting for digital retrofits can not just help bring down energy costs but will also improve the organization's bottom line.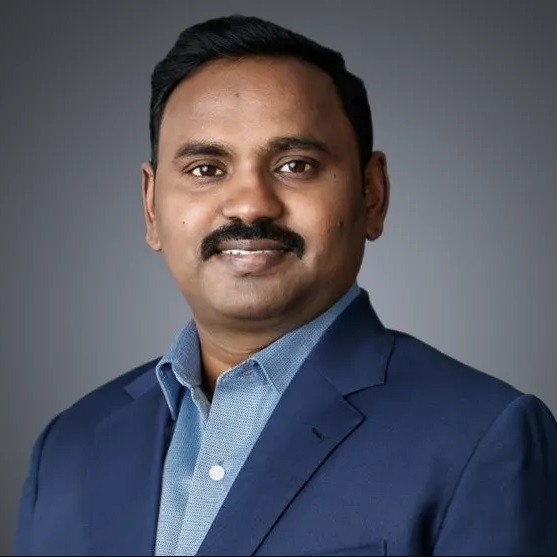 Prabhu Ramachandran is the founder and CEO of SaaS company Facilio Inc. Facilio is an AI-driven property operations platform that allows real estate owners to aggregate building data, optimize performance, and control portfolio operations – all from one place.
Prabhu's career spans over 18 years of product, business, and customer experience focused on enterprise-scale software for IoT-based connected services, sustainable building solutions, and telecom network management.
A pioneer in the field of SaaS and IoT, he strongly believes that technology can be leveraged to drive environmentally responsible facilities that create a positive impact on the world.