CES 2023: The Expansion of Consumer Electronics
Audio and video (A/V) equipment traditionally dominated the Consumer Electronics Show (CES). For sure A/V continues to have a significant presence. However, there are new consumer-oriented businesses well beyond traditional consumer electronics, which were on display at CES 2023 last January.
After attending virtually in 2021 and 2022, I decided to travel to Las Vegas last January to attend CES, sponsored by the Consumer Technology Association (CTA). This trade show has traditionally been one of the largest conventions in the United States. The Electronic Industries Association (EIA), predecessor to the CTA, started CES in 1967 with 250 exhibits and 17,500 attendees in a Manhattan hotel.
In this article I provide my overall impression of CES and highlight the diversity of product areas at the show. My next article will cover a sampling of exhibits representing the expanding footprint of consumer electronics.
CES stats
CES opened January 5 in the Las Vegas Convention Center (LVCC) that now includes a new west wing1. This building increased the floor space of the entire LVCC by about one-third. In addition CES used exhibit space at the Sands, now called the Venetian Exposition Center.
Attendance was down by about a third from January 2020 (180,000 in 2020; 115,000 in 2023) with 3200 exhibits (4500 in 2020). The entire show could have fit into the LVCC. However, a CTA official told me they continued to rent the Venetian Exposition Center in order to ensure it would be available next year for a hopefully bigger show.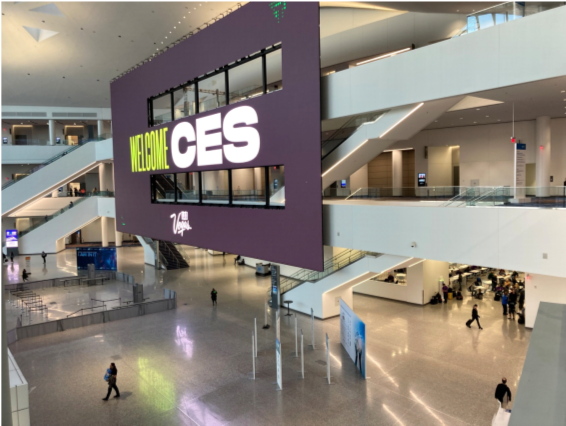 Lobby of the Expanded Convention Center
The display wall "Welcome CES" is composed of an array of monitors. A video introduction to the new convention center building is available at:
CES exhibits
The key trends I observed were:
Artificial Intelligence (AI)
Automobile technology
Digital health
Energy and power
Robotics
Drones
Gaming
Wellness technology
Fitness & wearables
Here are some of the more notable exhibits to convey a sense of the scope of CES.
The big toys
This Caterpillar truck for mining is the largest exhibit I saw at CES.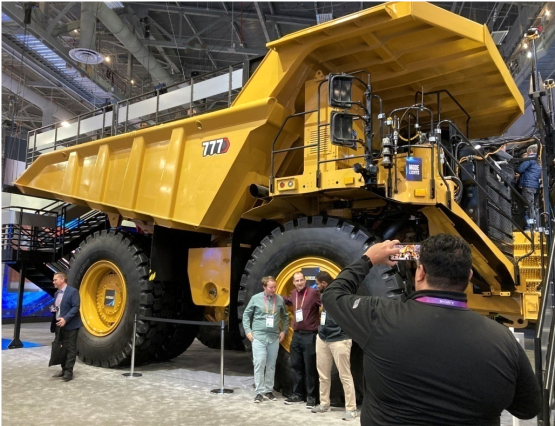 John Deere makes farming equipment including this combine harvester.

The Hispan Siuza Carmen is a Spanish/Swiss sports car, first produced in 1904 by Grup Peralada. Grup Peralada is a family business with annual revenues of 300-million Euros from wineries (19 million bottles per year), casino resorts, packaging materials, and cars. This newest version of the Carmen is an electric-powered sports car. Fewer than 20 of these have been produced at $1.7 million each. One sold in the US to a buyer in Miami.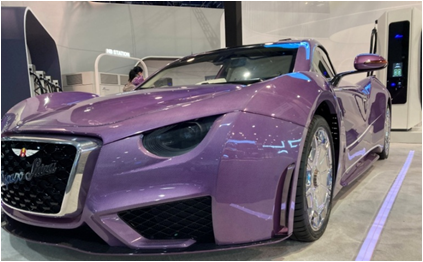 Artificial Intelligence (AI) for driving
Self-driving cars were introduced a few years ago at CES. Now there is a focus on the complexity of driving in the real world, replete with pedestrians and unpredictable events. Video processing using AI is touted as the solution for these driver-assisted and self-driving cars to detect and avoid obstacles.
A new Netherlands company called Lightyear developed a solar-powered car with photovoltaic cells built into the roof and hood. The Lightyear Model 2 costs less than $40k and offers the following unique benefits for an electric vehicle (EV) according to the company website:
"With an integrated layer of solar cells extending your journeys, you could drive over 500 miles before your next plug charge. For short and medium trips, Lightyear 2 could even sustain itself without a socket in sight. … Lightyear 2 needs three times fewer charges than a conventional EV, because this aerodynamic car does a lot with its energy. … Along with reducing dependency on the power grid, Lightyear 2 has the smallest energy footprint on the market. Its lifetime emissions are half than that of conventional EVs."
Excess power from the car will be sold to the local power utility where allowed. US production of the Lightyear 2 is planned for 2025.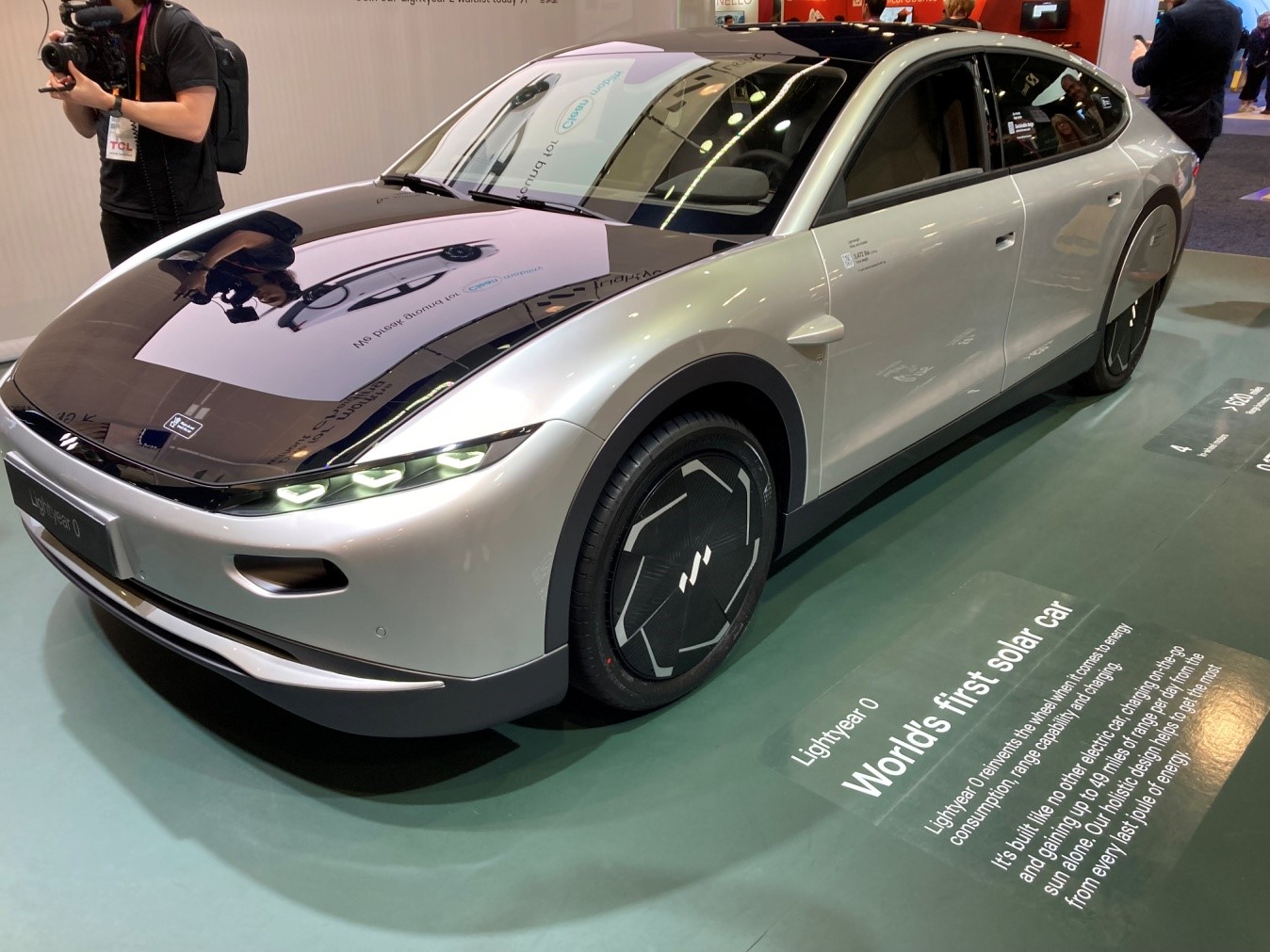 A video of this car being introduced in the United States is available at: www.youtube.com/watch?v=3SCo0KmXVdQ
The future of CES
The largest booths at CES continue to be built by the audio/video equipment companies from Korea, Japan, and China.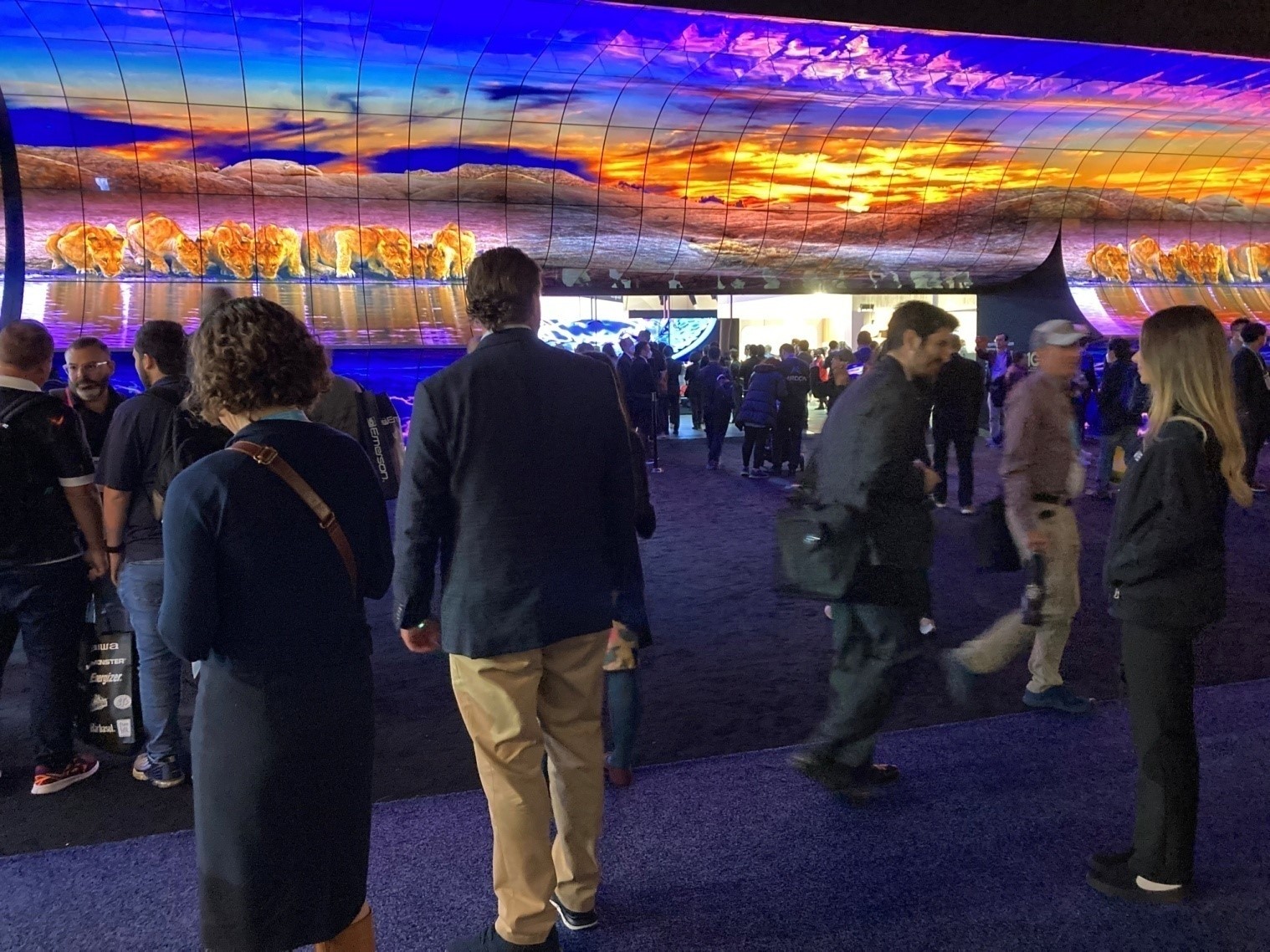 This photo shows a curved array of 280 55-inch LG TVs displaying a custom-produced nature movie creating a spectacular entrance to the massive LG exhibit.
I wonder about the future of CES. Will CES attendance recover to pre-pandemic levels and then grow? Las Vegas can support a CES at least 50% larger than 2023. As in 2021 and 2022, CES 2023 continued to offer remote attendance by displaying exhibits online throughout January and February 2023. Will companies be as generous with employee travel as pre-pandemic, or is remote attendance the new normal for many?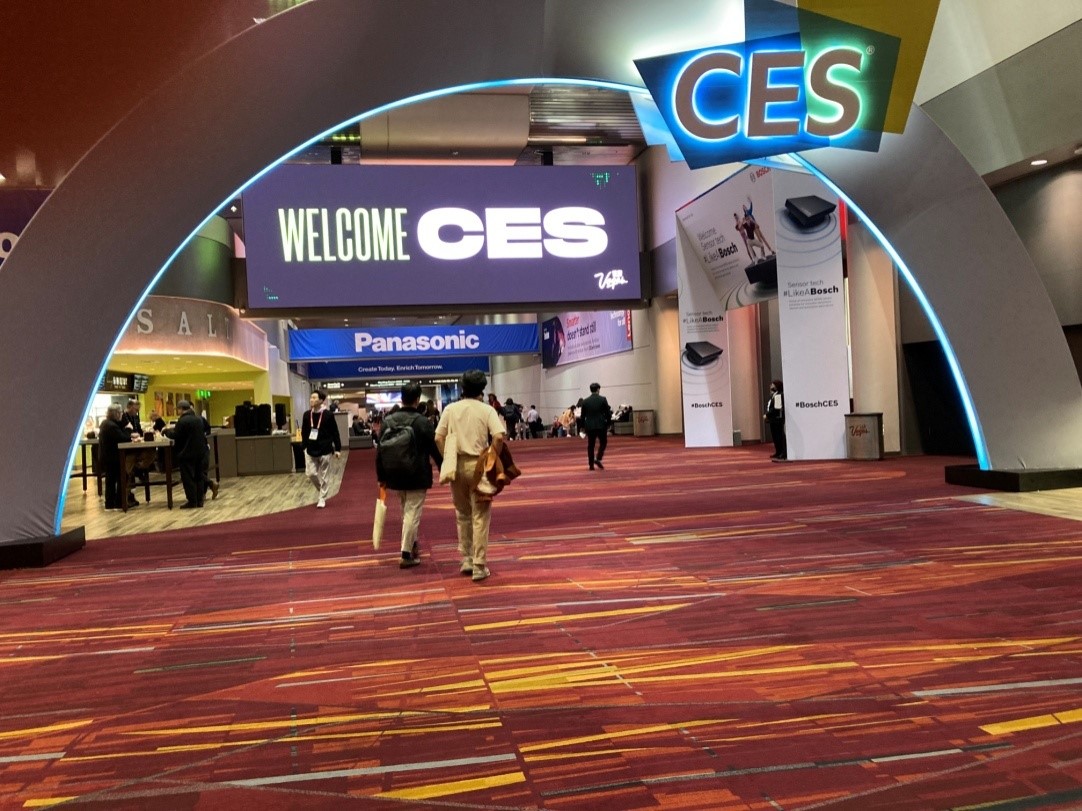 1. The site of the LVCC West Wing is the 1969 Landmark Hotel, which had been built to look like George Jetson's apartment. The Jetsons was a cartoon series that introduced home automation in 1962. Please visit the following website to see the original Jetsons: https://www.youtube.com/watch?v=uPnZpENoypo.
© Copyright 2023 Kenneth P. Wacks
Dr. Ken Wacks has been a pioneer in establishing the home systems industry and a management advisor to clients worldwide. His business specialties include IoT (Internet of Things), cybersecurity, and standards for home and building systems, energy management for smart grids, and digital media networks. He also provides due-diligence for investors and expert witness services for litigants including patent, employment non-compete, and trade secret cases. Please visit kenwacks.com or contact Ken at +1 781 662-6211; [email protected]; www.kenwacks.com