Introduction
CES (the Consumer Electronics Show) is the largest trade show in the United States.  CES was started in 1967 as a semi-annual venue for TV and audio retailers to shop for products to stock for the next season.  The show is now an annual event that occupies most of Las Vegas during early January.  This year about 175,000 visitors viewed more than 4500 exhibits in nine halls, hotel suites, and parking lots containing electric vehicles, tents and temporary buildings.  There were the usual assortment of TVs, audio, home automation, and supporting electronic equipment.  There were also products that are not usually categorized as consumer electronics.  This article is my personal tour, highlighting the wide variety of products at CES, some quite amazing and new at CES extending well-beyond the CE industry.
A/V and home systems at CES

The largest exhibits at CES continue to be mounted by the well-known brands of consumer electronics: LG, Panasonic, Samsung, and Sony.  They each occupied booths the size of a single-family house lot.  Most featured OLED TVs offering brighter and crisper images than traditional LCD flat-screen TVs.  Organic Light-Emitting Diodes (OLEDs) are tiny light sources composed of organic material between electrodes, one of which is transparent.  Most flat-screen TVs use a liquid crystal display (LCD) where white light from an array of LEDs is filtered by tiny liquid crystals that alter the LED brightness and color of each picture element called a pixel.  A 4K OLED TV image is composed of 3840 x 2160 pixels created by 8,294,400 OLEDs or liquid crystals.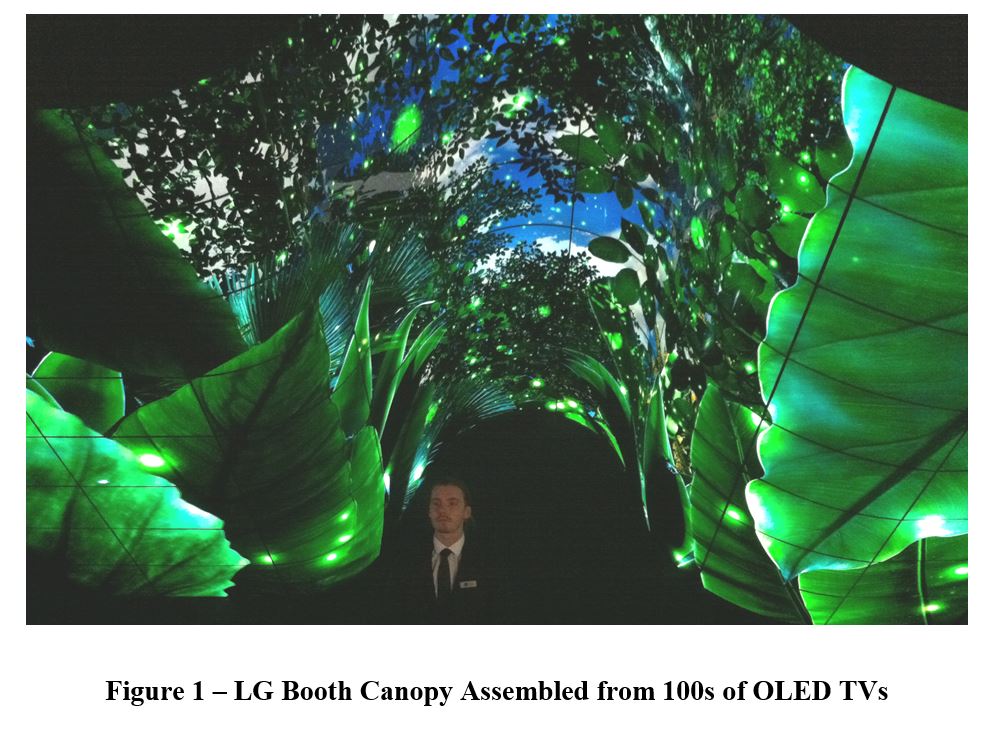 An OLED TV can be thinner than an LCD TV because OLEDs don't need an array of LEDs as a light source behind liquid crystal filters.  Each OLED emits light.  As a result, OLED TVs offer higher contrast with better control of black levels than LCDs.  OLED TVs are so thin they can be flexible and curved.  LG created a 100-foot canopy consisting of a few hundred 55-inch OLED TVs mounted 15 feet above their booth entrance as illustrated in Figure 1.  A huge video played across these TVs.
OLED TVs are luxury products compared to LCD TVs.  For example a 65-inch 4K OLED was advertised in February 2020 by Best Buy for $1900, while the 65-inch 4K LCD was $480.
Here are some A/V products that I found novel.  I have included company web site addresses and pointers to some YouTube videos:
SubVo (subvo.com)[https://www.youtube.com/watch?v=XK2EFbG3g_g] – SubVo claims to make ordinary loudspeakers sound great.  Most loudspeakers consist of pliable cones made from a paper-like material that vibrates.  The cone is made to vibrate because at the apex of the cone an attached coil of wire moves inside a magnetic field driven by an electrical signal that varies according to the audio source.  Poor-quality speakers are often over-driven causing the cone to move too far thereby creating a distorted sound.  SubVo attaches a sensor (called klaraT) to the cone to measure the cone movement and provide feedback to the electrical drive signal in order to reduce cone movement.  The combination of sensor and feedback to the electrical signal prevents over excursion of the cone, which creates distorted sounds and could damage the speaker.According to SubVo, "klaraT feedback brings sound into crisp focus with its flat frequency response and reduced distortion."  A typical speaker distorts the audio signal by about 10%.  SubVo reduces this to 1%.  Applications are well suited for speakers found in cell phones, smart tablets, and other thin devices to achieve "near perfect clarity."  SubVo is working with manufacturers to incorporate the klaraT sensor and feedback circuitry using digital signal processing (DSP) into speaker design.  The cost impact on design is projected at less than $10 per speaker.
KNOW (knowheadphones.com) – The founders of KNOW have been developing headphones for large brands.  They formed KNOW with a unique approach to marketing headphones.  "KNOW sought to cut out the brand inflation, retail markup, and masculine design of the personal audio industry at large."  They use SmartPricing. "As our material costs change, your cost changes.  If we get a cost savings because the price of, say, the silicon for our chips gets cheaper, you get a cost savings in line with ours."The audio features of KNOW headphones (Figure 2) and earbuds include:

Hush™ Active Noise Cancellation using a proprietary Cirrus Logic chip that extends noise cancellation from the usual low frequencies (below 100 Hz) to mid-range frequencies carrying conversations and traffic noise.
Improved sound profile for earbuds to reduce fatigue.
Touch controls on the headphone and earbuds "to play, pause, answer a call, change a track, or interact with Siri."
Wireless communications to the headphones with wireless and USB-C charging.
Earbuds include silicon for comfort and secure placement in the ear.The headphones use memory foam to adapt to head shape and even mold around the temples of glasses the listener might be wearing.

Wawlee (www.wawlee.com) – Wawlee combines four speakers and a 260-Watt amplifier with alight switch.  This integrated unit attaches to the electrical wiring in place of the light switch (Figure 3). Besides delivering music, it enables control via touch, voice, and Amazon Alexa.
Audio Technica (www.audio-technica.com) – Audio-Technica introduced headphones for the new digital audio format called Hi-Res Audio.  Hi-Res Audio is generally considered to be at least 96,000 samples per second for each stereo channel.  Every sample is encoded into 24 bits, while compact discs (CDs) use 44,100 samples per second per channel at 16 bits per sample.  To comply with Hi-Res Audio the headphone must have a frequency response up to 40 kHz.  The $650 model AT-WP900, shown in Figure 4, was designed for Hi-Res Audio.  It features a maplewood housing that is claimed "to ensure clear, natural sound quality."
Magnima Air Mouse (www.magnima.com) – Magnima showed a combination mouse and pointing device mounted on a finger (Figure 5) useful for slide presentations. It allows typing on a virtual keyboard projected on a screen by pointing to each key.  The pointer tracks cursor movement on nearly all surfaces and recognizes finger motion in space.  The device includes a 3D accelerometer, gyroscope and magnetometer, LED optical sensor, tactile switches, and a capacitive touchpad.
Tandem LED (www.tandemled.com) – LED Kelvin (K) temperature is a measure of the whiteness of the lamp: 5000K, called "cool white," is close to sunlight, while 2700K is considered "warm white," similar to the light from an incandescent bulb (with some yellowish quality).  Tandem offers tunable LEDs that can vary from 2700-5000K.  Lighting control can be done with the Tandem WAV system shown in Figure 6 using a wireless keypad, a smart phone app, or voice control.
AfterShokz (aftershokz.com)[https://www.youtube.com/watch?v=JKm_pzy-iUM] – AfterShokz are bone-conducting headphones (Figure 7).  They transmit sound through bone conduction without blocking the ear canal.  Therefore, they are good for outdoor work and sports when ambient sound is still audible.  The product includes music storage and a battery life of six to eight hours.
Victrola (victrola.com)Victrola is the go-to company for nostalgia. They make vintage-looking products updated with interfaces such as Bluetooth.  An assortment of products was displayed, as can be seen in Figure 8.

Health and sex at CES 
CES has expanded well beyond A/V.  Here is a sampling of the diverse world of products displayed at CES.
AudioCardio (audiocardio.com) – AudioCardio claims to improve hearing loss due to noise exposure and aging with special sound effects.  The system is built on a smart phone app that analyzes hearing loss and tailors sounds intended to remedy the loss, as shown in Figure 9.  According to the company, the solution is "personalized sound therapy."  These sounds can be combined with music, podcasts, and audiobooks. Here is the company explanation of the process: "Our patented and clinically proven Threshold Sound Conditioning™ technology generates personalized audio therapies to help stimulate and strengthen your cells.  AudioCardio™ quickly assesses your hearing and delivers a once a day, one hour hearing therapy for your ears." The company advertises support from Children's Hospital of Los Angeles, Southern California Consortium for Technology and Innovation in Pediatrics (CTIP), and the University of Southern California.  They claim their technique has been clinically proven by Stanford University, Samsung Medical Center, and Sutter Health Palo Alto Medical Foundation.
BrainUp (www.naolubrain.com) – BrainUp, from Naolu Technology in Beijing consists of the headband shown in Figure 10 that measures brain electrical activity and a smart phone app that analyzes brain data for "brain training" to improve sleep, music composition, and smart house control.  Other applications range from screening for depression to brain-controlled virtual reality to improvements in "marital sex harmony."The device monitors brain activity, examines mental state, and provides "micromagnetic and acoustic-guided sleep" by relaxing the brain and mental state "like a spa for the brain" and a "brain gym."  The analysis is claimed to be based on artificial intelligence using an "encrypted AI algorithm such as SVM, sparse Bayesian correlation vector (RVM) and artificial neural network (ANN)." The goals are to improve memory, reduce reaction time, and improve focus.  The founders were affiliated with Harvard, Stanford, MIT, and Tsinghua University (Beijing, known as China's MIT).
Charmin [https://www.youtube.com/watch?v=bp_mdcT6rHs] – Proctor and Gamble mounted a large booth featuring some of their popular brands such as Pampers, Oral-B, and Charmin. To bring attention to toilet paper, they staged a scenario that evidently affects many people: running out of paper while sitting on the toilet.  The solution is a specially-designed robot to deliver a role, as shown in Figure 11.
Electromedical Products International (alpha-stim.com)[https://www.youtube.com/watch?v=ciU_L5rc7B8] – Alpha-Stim applies low levels of electricity called microcurrents (measured in microamps) to parts of the brain or other ailing parts of the body.  These currents are purported to treat anxiety, insomnia, depression, and pain with 20-minute treatments.  The only reported side effects are headache and skin irritation from the electrodes.  The power supply consists of two AA or AAA batteries.
LIKU (www.torooc.com); Neon (neon.life)[https://www.youtube.com/watch?v=Aa1oJKrGg8U] – LIKU demonstrated a baby-sized robot, shown in Figure 12, that was claimed to make a good substitute pet.  It can walk, recognize faces and sounds, locate sounds, and track faces.  This a new category of social robots; the manufacturer claims, "We are creating a species, not a robot."If a pet is not a good enough friend, how about a human being designed just for you?  Neon (part of Samsung) is offering a computer-synthesized person displayed on a screen with whom you can converse in your native language.  The creators provided the following explanation:

"NEON, our first artificial human is here. NEON is a computationally created virtual being that looks and behaves like a real human, with the ability to show emotions and intelligence."
"Inspired by the rhythmic complexities of nature and extensively trained with how humans look, behave and interact."
"They can connect and learn more about us, gain new skills, and evolve."
"Enabling interactions with smiles and chit chat.The Human Interface."

Mysteryvibe (mysteryvibe.com)Mysteryvibe makes sexual stimulation devices.  This company submitted a product for consideration in the CES 2019 Product Innovation Awards contest and won.  The judges are selected by the Consumer Technology Association (CTA), the organizer of CES, from the consumer electronics industry (I have been a judge for home automation and audio products in previous years).  Each category of product has many judges. CTA refused to grant the award to Mysteryvibe last year, but then decided to allow this company and others with similar products to exhibit at CES this year among the heath-related booths.  Please visit the company website for more information about these products.
Zhor Tech (www.zhortech.com) Zhor makes smart shoes for comfort, sport, health, and safety.  A microprocessor in the shoe transmits information to a smart phone and to the cloud.  The data can be used by the manufacturer to improve the shoe.
Zibrio (www.zibrio.com) Zibrio looks like a bathroom scale (Figure 13), except it measures physical balance plus weight.  On a scale of 1 to 10 it assesses the likelihood of a person falling with a one-minute test.  A score of 1-3 indicates a propensity to fall; a score of 7 or above is good balance.  In tests with adults at a senior facility, Zibrio was used for training residents to improve balance; falls were reduced by 50%.
Food at CES
As in previous years, a few companies offered home farming products, as shown in Figure 14.  Here are some unusual products:
Fresco (www.oliofesco.it); Trytaly from Asternomi (trytaly.com)[https://www.youtube.com/watch?v=I3lQloOib6o][https://www.youtube.com/watch?v=xcQQHxkfZMA]Project Eureka at CES consisted of an entire hall devoted to startup companies in small booths.  This was one of the most exciting and well-attended parts of CES.  Many exhibitors were organized by country.  For example, the Italian Trade Agency and a government ministry sponsored about 40 companies.Among the more unusual companies were Fresco and Trytaly.  Fresco cultivates Italian olive oil and packages it in frozen four-inch balls called "olive oil pods" shipped to the customer.  The customer inserts a pod into a dispenser called the Keurig© of Olive Oil, shown in Figure 15. Trytaly is a dining service using an app that pairs American tourists in Italy with amateur chefs who prepare custom meals at their homes.  The tourist and chef negotiate the food and price.
Teplo Smart Tea (teplotea.com) – This new product shown in Figure 16 from Load and Road, Inc. is designed to "craft tea" personally by brewing according to the drinker's mental state as determined by a heart-rate monitor.  The user's heart rate is entered into a Teplo app, which then monitor's the brewing process.  The company told me they can control the caffeine content by adjusting the brewing time and temperature.
The tea making equipment exposes the tea leaves from a rotating infusere.  The electrical base heats the water and maintains the temperature of the brewed tea.  Teplo is talking pre-production orders at $300 with a retail price of $400 plus shipping.
Products for land, sea, and undersea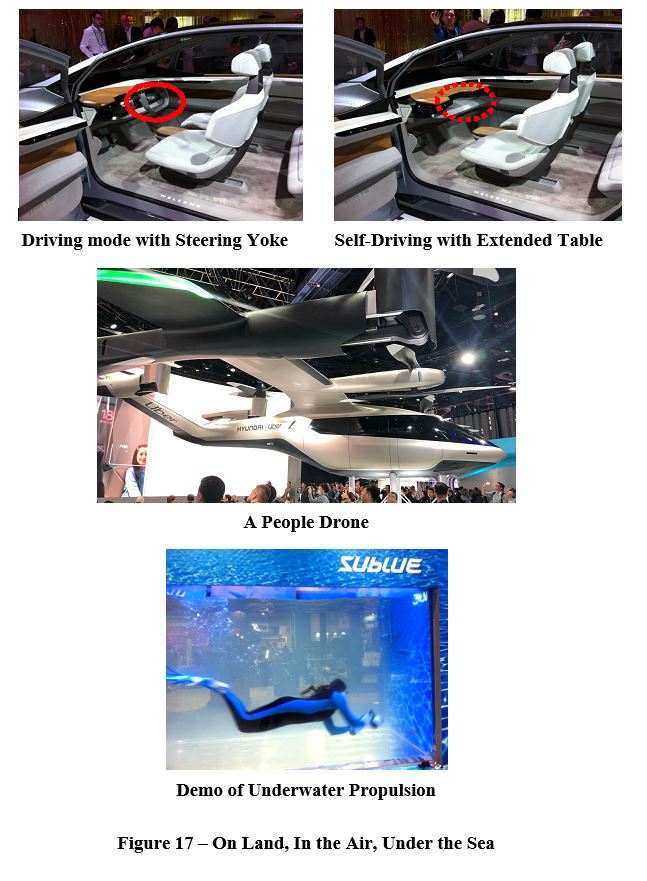 Figure 17 is a montage of CES exhibits spanning a self-driving car with a retractable steering wheel, a flying taxi, and underwater propulsion gear.
Next year
CES attendance and the number of exhibits have remained at current levels for a few years.  Logistics at the show are challenging because the main venues, the Las Vegas Convention Center (LVCC) and the Sands Convention Center are about a mile and a half apart, requiring a shuttle bus.  The queues for the bus are often a half-hour long.
The two million square feet at the LVCC are not enough to hold CES even with the addition of a half-mile long tent for exhibits next to the LVCC.  The adjacent Westgate International Hotel pavilion and ballroom (formerly the Hilton International) adds about 150,000 square feet, and the Sands adds another million square feet of exhibit space.  Later this year a major expansion to the LVCC will add 600,000 square feet.  According to these numbers, the Sands may still be needed until additional space can be found at LVCC perhaps by erecting more tents.
So be sure to budget time for accommodating the venue logistics, and wear comfortable shoes.  I estimate I walked at least five miles each of the four days I was at the show (and lost four pounds!).
---
© Copyright 2020 Kenneth P. Wacks. Dr. Kenneth Wacks has been a pioneer in establishing the home systems industry.  He delivers clear and practical advice to manufacturers and utilities worldwide on business opportunities, network alternatives, and product developments in IoT and AI for home and building systems.  The United States Department of Energy appointed him to the GridWise® Architecture Council to guide the electric industry toward smart grids. For further information, please contact Ken at +1 781 662-6211; [email protected]; www.kenwacks.com