Welcome back to virtual CES 2021
This article continues my observations from CES (the Consumer Electronics Show), the largest trade Show in the United States, which was virtual from January 11-14, 2021 with visitors and vendors online. About 80,000 attendees logged into CES this year compared to the onsite attendance of 170,000 last year. They had access to almost 2,000 exhibits (last year there were 4,500).
I viewed about 700 exhibits online and selected products that highlight notable trends in:
Personal care such as sleeping, bathing, and health monitoring
Family care products for children, adults, and pets
Food growing and preparation
A/V products
Astronomy
In an earlier post (June 3, 2021), I presented product examples from the first two categories listed. Here are samples from topics 3, 4, and 5. Each description includes a YouTube video pointer to observe the product in use.
Food preparation
Gardyn provides an in-home growing environment for a choice of 32 fruits, vegetables, greens, herb, and flowers in two square feet. A smart phone app controls the water and light and provides gardening instruction. Gardyn is sold as a monthly service for the plants and advice for growing them at $1307 for one year and $1585 for two years. (Gardyn: https://www.youtube.com/watch?v=Eb0gXECFnGQ)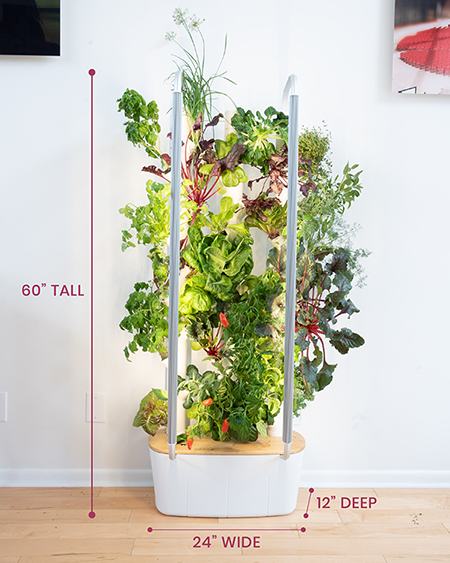 U by Moen is a voice-controlled faucet that delivers a desired quantity of water at a specified temperature. It is intended for dispensing water for baking, hand washing, infant formula, and plants. The cost is $880 at Wayfare. (U by Moen: https://www.youtube.com/watch?v=5gTjQ78Yybs)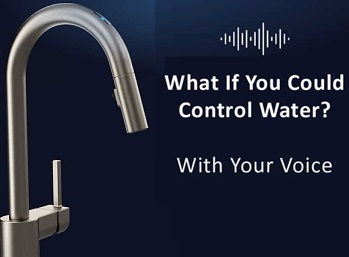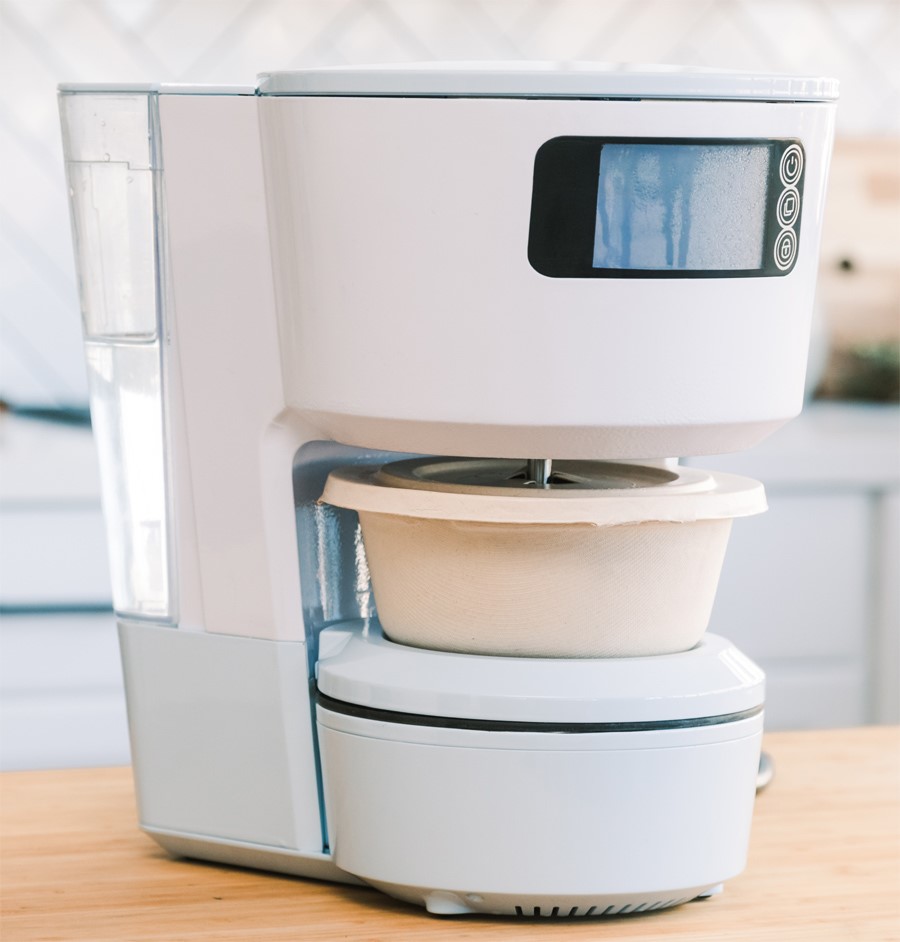 Takumi from Yo-Kai Express cooks ramen noodles, rice, dim sum, dumplings, and pas-ta. It combines a coffee maker, induction cooktop, and a steamer for sanitizing utensils and baby bottles. It can link to a recipe app via RFID (near-field radio). No price has been announced yet. (Takumi: https://www.youtube.com/watch?v=rpDgVt9Fo7g)
iWONDERCOOK prepares meals from a meal kit ordered online and stored for up to 10 days. The company offers low-salt, no-salt, gluten free, no-sugar, lactose free, and vegetarian meals. The packaged ingredients are inserted into the machine, which then verifies the expiration date, adds ingredients one at a time, adjusts cooking temperature and time, monitors stirring speed, adds sauces and spices, and notifies you when the meal is ready. The food costs $8 to $26 for 1 to 4 people; the machine costs $500-1000. (iWONDERCOOK: https://www.youtube.com/watch?v=KQoyMkySACM)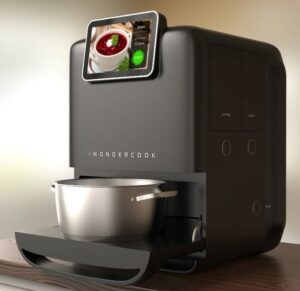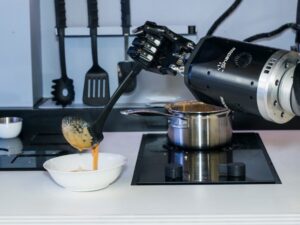 Moley the Kitchen Robot is a robot with hands that emulate a chef. It cooks complete meals, requests ingredients, prepares the food, and cleans up. It is programmed with recipes from famous chefs and from a community of robot owners. The company, Moley Robotics, provides an online tool to "design your robotic kitchen" that uses appliances, cookware, and utensils customized for the robot. The company claims, "All items are perfectly suitable to both robotic and human hands, bringing a complete and innovative technology experience to your kitchen." The cost is $335,000 (compared to about $75k a year for hiring a full-time private chef in Boston or Los Angeles according to indeed.com). (Moley Robot: https://www.youtube.com/watch?v=BSBTCOEdLkA)
Audio/Video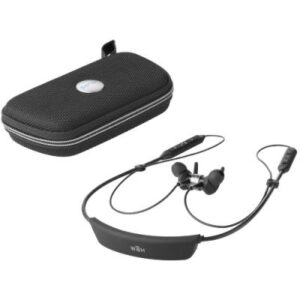 BeHear NOW is a device to assist hearing. It claims to overcome mild-to-moderate hearing loss, but it is not a hearing aid as specified by the US Food and Drug Administration. The device includes preset hearing modes with varying degrees of noise re-duction, equalizer, echo cancellation, etc., and a dedicated app for:
ListenThrough™: Passing through important ambient sounds during music play-back
EasyListen™: slowing down speech dynamically during phone conversations
Personal Sound Amplifier: providing dynamic, compressed amplification of ambient sounds
Intended operating environments include:
In-person conversations
Mobile phone conversations
Music/audio streaming
Television viewing
Movies, theater, and concert performances
Outdoors, in nature
It operates 12 hours per charge and costs $249. (BeHear NOW: https://www.youtube.com/watch?v=sYd9PmPoLrM)
Oticon More is an approved hearing aid that claims to be "The world's first hearing aid with an on-board Deep Neural Network" trained with 12 million sounds from real-life. It is "…designed to work like your brain" by learning from experience. It can stream audio from a smart phone and can be charged for a full-day operation in three hours. It costs $3000 per pair. (Oticon More: https://www.youtube.com/watch?v=qxelExG7qRs)
SoundBeamer is an Israeli startup offering "personal audio minus the headphones." It beams sound to a single listener. People nearby don't hear the sound because sound outside a narrow cone is attenuated by 20 db to a 10% sound level. The objective is to listen without disturbing anyone nearby. It beams "audio to just outside the ears, creat-ing an immersive 3D personal audio experience." The product is AI-based with built-in voice, facial, and gesture recognition as well as ambient sound monitoring. The cost is $595. (SoundBeamer: https://www.youtube.com/watch?v=Pf3QePhKqg8)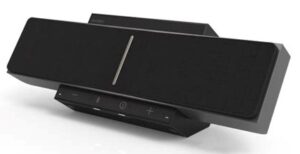 Care4Ear offers personalized tinnitus (persistent ringing in the ears) care with "sound therapy" using a free app that tests for tinnitus. The company claims the device is not a medical device but a "wellness device" intended for the approximately 200 million people who have chronic (15%) or severe (3%) tinnitus, which may mask speech sounds. (Care4Ear: https://www.youtube.com/watch?v=1H5qTGnTSEE)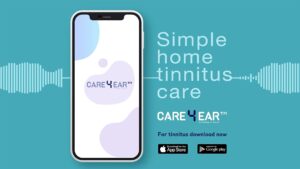 Astronomy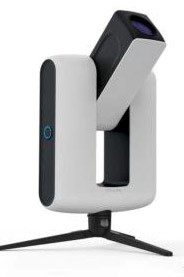 STELLINA is a telescope with sophisticated image enhancement. The device functions as an "observation station" that photographs the cosmos, with the images to be viewed with a smart phone app. The cost is $4,000. (STELLINA: https://www.youtube.com/watch?v=dST_WTGIKh0)
CES in 2022
The Consumer Technology Association (CTA), the producer of CES, has announced that CES will be held in Las Vegas next January in combination with a virtual trade show. A massive construction project was completed last year that increased the two million square feet of the Las Vegas Convention Center by more than 30%. CES 2021 was slated to be the first convention at this hall. Let's hope for a resolution of the pandemic and a better CES show next year. (Expanded Convention Center: https://www.youtube.com/watch?v=mW1oTa1pmBU)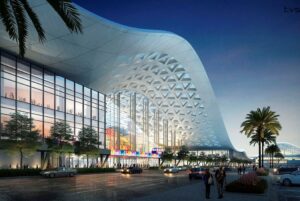 ---
© Copyright 2021 Kenneth P. Wacks
Dr. Kenneth Wacks has been a pioneer in establishing the home systems industry. He delivers clear and practical advice to manufacturers and utilities worldwide on business opportunities, network alternatives, and product developments in IoT and AI for home and building systems. The United States Department of Energy appointed him to the GridWise® Architecture Council to guide the electric industry toward smart grids. For further information, please contact Ken at +1 781 662-6211; [email protected]; www.kenwacks.com.