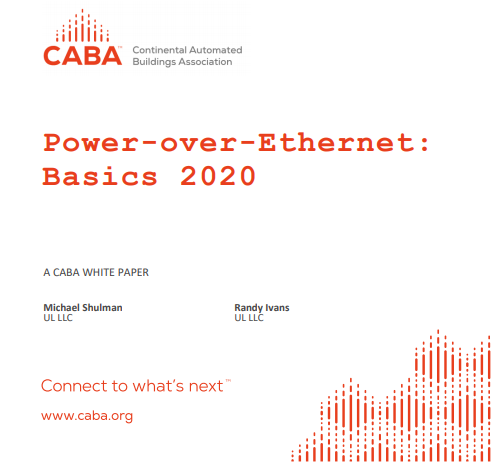 ASHB's latest White Paper describes the fundamentals of Power over Ethernet (PoE), with explanations on the technology's current state and the applicable codes and standards. The document is available in the ASHB White Papers section of the website and in the ASHB Research Library (IS-2020-126).
An appreciation goes out to everyone who contributed to the development of this paper, including experts from Somfy Systems, Contemporary Controls, Axis Lighting, Southwire Company, LumenCache, National Research Council (NRC), Ken Wacks Associates, National Electrical Manufacturers Association (NEMA), Public Services and Procurement Canada, the Telecommunications Industry Association (TIA), UL LLC, Renesas Electronics America Inc., Intelligent Buildings Europe, Frost & Sullivan, and BeHome247.
"With PoE, it is conceptually straightforward to make building data available to building occupants through mobile devices, and to enable their input to control decisions. This is just one advantage promising to deliver behavioral and organizational productivity benefits based on occupant well-being.